Catherine Deane Trunk Show October 2020
Discover your dream dress in our exclusive Catherine Deane Wedding dress trunk show, taking place 1st-3rd October 2020 in our bridal boutique, Salisbury.

You will have exclusive access to the full collection of their stunning new 2020 season dresses; so book today!
We offer private appointments in our Salisbury centre showroom so you are guaranteed to have the boutique to yourselves. If you are dreaming of lace sleeves and backless beauties, elegant details and soft silhouettes; Catherine Deane is for you! Their intricate gowns really capture a feeling of modern romance, to reflect the individual you are.
Born in Ireland, raised in South Africa and inspired by living in London and Hong Kong; Catherine's designs draw cultural references from a nomadic lifestyle and her passion for long forgotten craft techniques and femininity. ­­
This 2020 collection, titled 'Beauty from Ashes' is inspired by South Africa's most breath-taking landscapes. Each exquisite hand-crafted piece is embellished with details and textures, reflecting glimpses of sparkling dunes, playful, soft white waters of the shore break, winding roads carved perfectly to the contours and curves of the lush mountains, and epic golden sunsets over the shimming ocean.
Each item of this diverse collection was designed with every one of our Bridechillas in mind. For that reason, this collection will appeal to any body type, age, or style; from relaxed boho to glamour goddess.
Spaces are limited so don't delay; book today!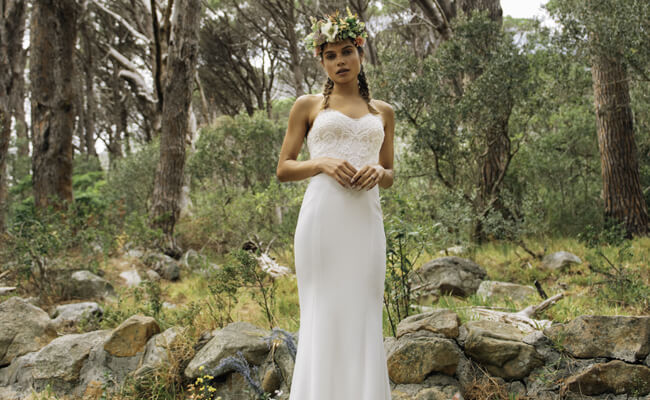 About Catherine Deane in Philippa's words
"The Catherine Deane Trunk Show is back! This phrase gets thrown around a lot in the bridal world, and let's be honest, if you don't work in the bridal industry then you're probably wondering what a trunk show even is. Well, I can reassure you that this is not a weekend where I am showcasing my finest pieces of luggage, it is in fact a weekend where the designer (in this case the incredible Catherine Deane), sends us their ENTIRE collection of dresses, and if you're lucky there may be a cheeky little offer on if you find your perfect dress.
As a stockist of many different designers, we are only able to stock our collection edits from each brand, not the entire collection. This is why a trunk show is so great and such an amazing opportunity if you are a fan of Catherine Deane's dresses. Especially in today's climate, travelling to their flagship store in London is off the cards for most of us, so we are bringing the flagship store to you, BUT only for these 3 days. After the Trunk Show has ended the dresses are packed up and sent back to their home at Catherine Deane HQ.
If you love Catherine Deane or love the idea of having a dress that is exclusive and not usually available, then the Trunk Show is not to be missed. Also I must add that these dresses are extremely affordable and start from £950!
Don't miss out, appointments are limited so do get in touch to reserve your slot ASAP."
Philippa
Bridal Store Manager