Mariana Hardwick Pop Up Shop 2020

We have MASSIVE news! We are delighted to be opening a Mariana Hardwick pop up shop in our Salisbury Bridal boutique, from 9th – 20th October 2020. If you have swooned over this leading Australian bridal fashion designer on your socials; stop reading & get booking your appointment! If you don't know the name, read on & prepare to fall in love….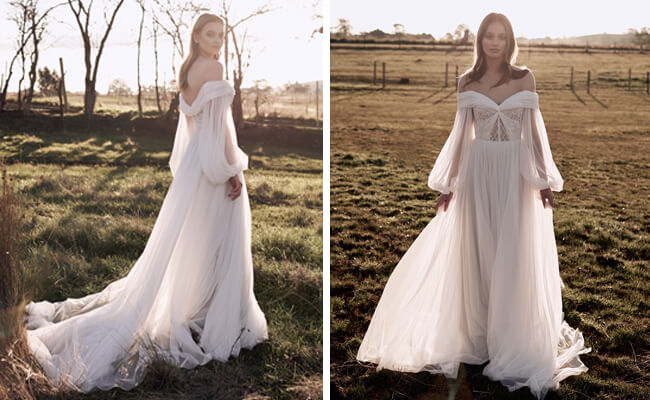 Mariana Hardwick is Australia's leading destination for luxury bridal fashion for contemporary brides. It's the FIRST TIME EVER that this designer has shown in England; we can't tell you how excited we are to showcase these stunning gowns!
Appointments are likely to go fast and A&S Bridal is the ONLY place in Britain you can try them, so don't delay booking your slot!
Who is Mariana Hardwick?
In their own words, Mariana Hardwick create "bridal gown collections that speak to the visionary bride. The bride who has a unique style, knows quality and shops sustainably. She sees beyond the conventional wedding dress and seeks inspiration from contemporary global fashion landscape." Mariana Hardwick have a beautiful flagship store in Melbourne, Australia and are currently celebrating 40 years of creating couture bridal.
Stunning Showstoppers
The dresses draw inspiration from global contemporary couture with vintage touches. Texture, drape and premium fabric selection are so important. From slinky silhouettes to sculptural couture, one thing is guaranteed; you will look and feel amazing in one of their timeless gowns. Every. Little. Detail. Is. Perfection.
Why do we love them?
Before she joined us, our lovely bridal manager Philippa spent some time as the manager of their flagship store in Melbourne, Australia. So who better to present these gorgeous gowns to you! She knows the brand inside out, she's seen every dress being made in house/ on site, in fact she's even named one or two!
From day one of joining Allum & Sidaway, she's been so, SO keen to get these dresses to the UK audience. She knows how much they will be adored by contemporary UK brides.
Need to know
The collection of over 20 dresses will be in our Salisbury boutique from 9th-20th October ONLY. Unlike a trunk show, this is your ONE CHANCE to try them; being an Aussie brand they have no plans to make this a regular thing, so unless you fancy a super long flight, you need to book in with Philippa and come see what all the fuss is about! Dresses range from £1700 to around £4000.
A little more about the collection
This selection of dresses is titled 'The Awakening'. Creator Rebekah Hardwick explains that it originates from
"a time to reflect who we are today and to look back into the archives and the history of our 40 year old iconic brand.
In The Awakening, there is a consideration into every element- should it be there and why, what is it saying? This collection allowed us to go a little deeper without the time pressure, and marks an acknowledgement of what we have achieved, considers where we are going as a brand, a contributor to the fashion landscape and a group of creative women."
And that's not all! Alongside the Awakening Collection, we will have a few extra dresses, hand-picked by our manager Philippa.
About Mariana Hardwick in Philippa's words
"This is probably one of the THE most exciting events we have ever done. Why? Because this is the first time Mariana Hardwick's dresses will be available in the UK, and we are lucky enough to be hosting their first ever pop up shop in the whole of England!
For 2 weeks only we will be showcasing the incredible Mariana Hardwick gowns in our Salisbury boutique. This is truly a once in a lifetime event as when the event is over, the gowns will start to make their way back to their home in Australia ready for the Australian lockdown to be lifted.
If you have had your eye on this exquisite designer or are only just seeing (and loving) them now, then do not miss out, after the 20th October these dresses will be gone.
For your chance to have a truly unique and exclusive dress, book a no pressure appointment with me, Philippa, to come and try them on during the pop up shop dates. The only thing you have to lose is the chance of finding your dream dress."
Philippa
Bridal Store Manager